Food Nations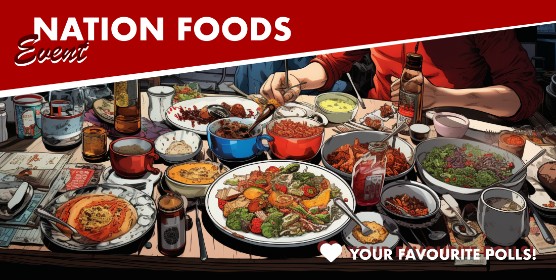 Create polls to participate in the event
Closed
Event starts
Closed
Event ends
Closed
Local Food Week on HICH starting soon! and we're celebrating the best local cuisine from all over the world!
Do you love Indian Vindaloo? How about Poutine? Or maybe you're more of a Pierogi person? Whatever your favorite local food is, we want to see it!
This week, we're asking you to create food related polls on HICH. Just use the topic NATION FOODS in your poll, and we'll do the rest.
How to join
To enter you must be POLLSTER LEVEL 2 and create a poll with the topic NATION FOODS.
Please note that topics are not hashtags. When creating a poll, you must select the correct topic.
Let your imagination run wild!

Experiment with new poll formats and questions! Educational, interesting, or silly, your polls are our treat!
How to vote
Browse the Events section in the Discovery tab. the polls that you enjoy the most, and the ones that you don't.
---
Event Rules
Only one poll per account will be selected.
Participants are selected by HICH.
and of participating polls will be reset when the event starts.
The poll with the highest ratio of to will win.
First place will receive a prize of 1,000,000 and 10 Prestige.
Selected polls will receive a 4 or 5 grade when the event concludes.
Feel free to promote, share, or even invite your friends and family to vote on your poll, but please follow the Referrer Rules.
Voting for this event is only available to Android users.
Good luck and have fun!